---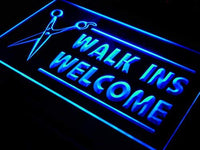 Let your prospective hair cut customers know that walk ins are welcome with an LED sign. 'Walk Ins Welcome' is etched in electric blue capital letters to the left a pair of scissors. Carved with the latest 3D, Surface and Line engraving technologies this lighted sign is attractive from all directions. Made of the highest quality clear acrylic plastic and LED lighting. Comes with durable metal chain for hanging anywhere you like. 
Approximate size:
W 300mm x H 200mm or W 12 in. x H 8 in.
Frame material:
 Black Acrylic craft protected by peel off seal.
Input power:
AC100-240V (Suitable for any country)
Output power:
Security voltage 12V DC power, not harm the body.
Service life:
90,000-120,000 hours
Accessories:
AC power cord, hanging chain